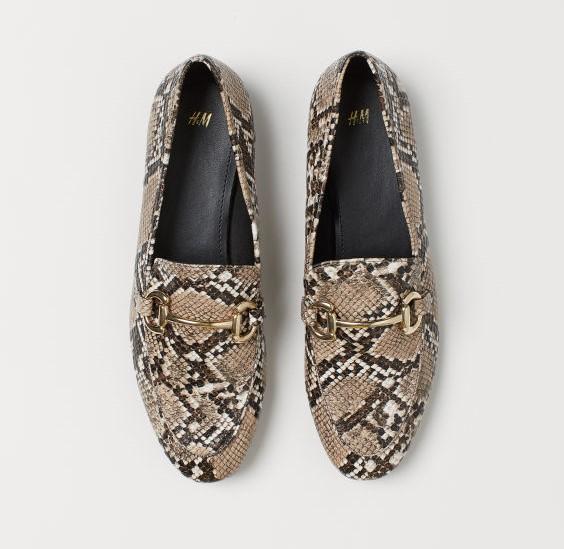 Fall fashion: 7 BIGGEST trends for 2019
Doesn't it feel like fall creeps back around so quickly? Hello cozy nights in - we've missed you! Check out the fall fashion trends for 2019 to make sure you look on point for this season's festivities.
1. Snakeskin
Sssss-snakeskin print has its place on the shelf of timeless classics, as this elegant yet versatile pattern can instantly turn a simple look into a sophisticated outfit for both day and night.
Expect to see snakeskin blouses and dresses this fall as well as purses, scarves, sneakers and loafers such as these super-chic snakeskin loafers from H&M.

Snakeskin loafers $29.99 from H&M
2. Moody floral
Floral has been a huge hit for 2019, with runway models, celebrities and our favorite fashion brands making the most of this summer's cute floral dress trends. But as the colder weather approaches, so has this season's trend for darker and moodier floral fashion pieces.
This gorgeous two-piece design from Lulu's Fashion Lounge is perfect for fall. Featuring a black and pink floral long sleeve wrap top and midi skirt, this look is perfect for both a coffee-date with your girlfriends as well as a dinner-date somewhere romantic.

Black floral print long sleeve wrap top $52 and midi skirt $58 from Lulus's Fashion Lounge
3. Metallic leopard print 
The awesome thing about leopard print is that it's a fall fashion staple. No matter what, leopard print has the power to give any straightforward outfit the ultra-glam that it needs. Whether it's a signature piece such as a cute clutch or an extra-cozy faux fur coat, leopard print has stood the test of time as a fall/winter classic.
But 2019 has seen a new wave of fall fashion designs, showcasing a glamorous metallic take on the timeless print such as this show-stopping midi skirt from NastyGal.

One Wild Night midi skirt $24 from NastyGal 
4. Crocodile print 
What's a quick way to make a fashion item look vintage, expensive and ultra-stylish for years to come? Get it in crocodile print!
Crocodile print is so versatile, yet it has the power to make any item a signature fashion statement in itself. Some of the biggest fall fashion trends for crocodile print this year are knee-high and ankle boots which can be teamed up with a patterned dress for extra daytime glamour.
Backpacks such as this vintage faux crocodile print backpack are a 2019 fall fashion must, adding a classy and elegant finish to your look.

Leather backpack $39.99. Available in two colors from More than a backpack.
5. Colorful Berets 
You don't have to be French to wear a beret! They're simple yet sophisticated and are sure winners to add charm, come rain or shine.
With the heavier winds causing a stir, keep your hair secure and enhance your look with a simply cute beret such as this Always Beautiful Beret in teal by FashionNova.

Always Beautiful Beret $9.99 from FashionNova 
6. Oversized coat
Summer days already feel so far away, so it's time to snuggle up with your favorite hot drink and a trusty oversized coat which are a huge fall fashion trend this year.
Bershka's Quilted coat with a wraparound collar comes in a variety of colors and is guaranteed to get you to your destination shiver-free whilst also making you look super cute and on trend. 

Quilted coat with wraparound collar $59.90. Available in four colors from Bershka
7. Wool and satin 
Finally, this unlikely coupling has become a huge fall fashion trend for 2019 as the woolly knits add a bit of informality to seductive satin slips and give this look a green light for daytime wear.
This look can be teamed up with simple white sneakers for extra comfy daytime glam, or cross-over lace-up heels for a low-key yet super sexy evening outfit. Check out the Aerie satin slip midi skirt in hut by American Eagle and pair it with Bershka's oversized Chenille sweater in white.

Aerie Satin Slip Dress $19.98 from American Eagle and Oversized Chenille sweater $29.90 available from Bershka.